The symbol of Romuva is a stylized oak tree, representing the axis mundi, or "world tree," known in local mythology as Austras Koks, " tree of dawn," i.e., a tree of life.
The three tiers represent the three worlds: the world of the living, or present-day, the world of the dead, or passed time, and the world to come, the future.
The flame represents the ritual offering fire central to Romuva religious practice.
http://symboldictionary.net/?p=814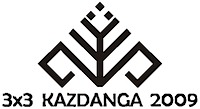 http://www.3x3.lv/KRATUVE/Kazdanga/_Media/kazdangaszime.jpeg